RuM
Rule Mining Made Simple
RuM is a desktop application that provides a comprehensive set of declarative process mining tools in a single unified package that is easy to use for both novices and experts of process mining. RuM is based on the process modeling language Declare but no prior experience with Declare is required to start using it.
The development of RuM has been partially supported by the Estonian Research Council (grant PRG887 and PRG1226) and by the UNIBZ project PRISMA.
For use in research cite as: BibTex
Latest version of RuM released on 08.11.2023 (version 0.7.2).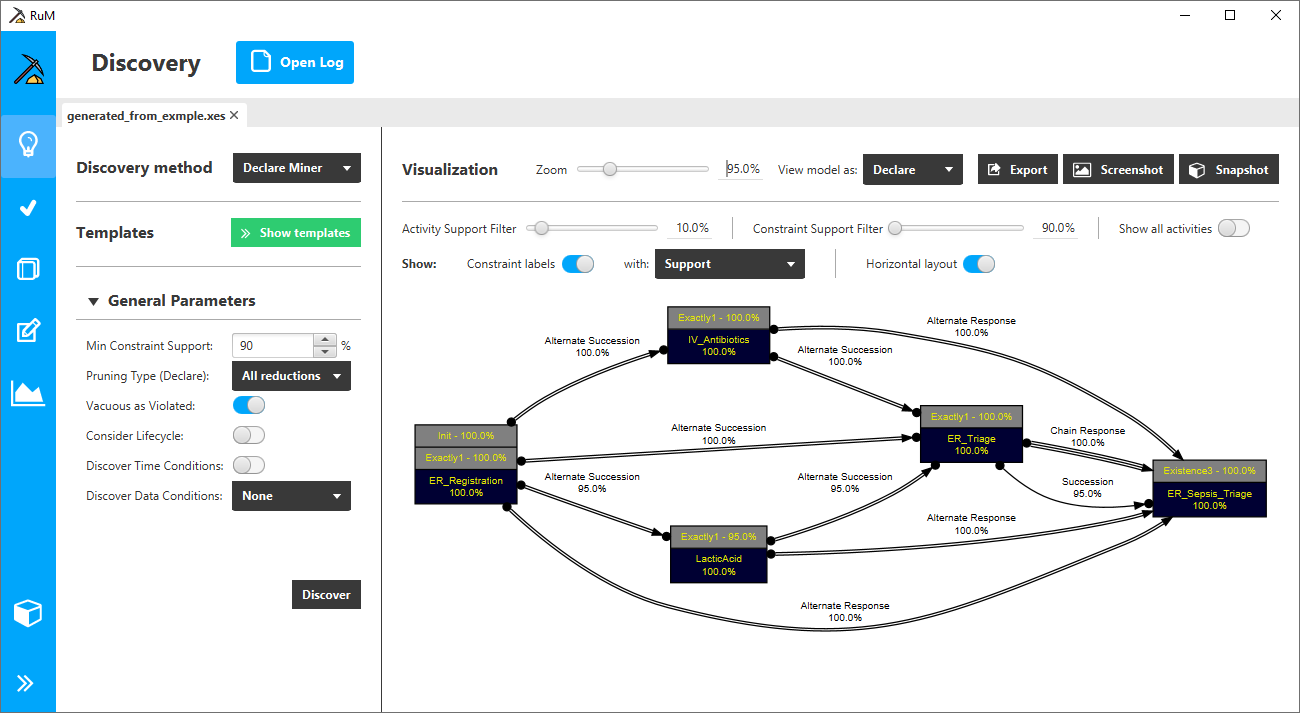 Process discovery supports the Declare Miner and MINERful techniques. The results can be explored using the Declare graphical notation, a textual description of the discovered constraints or a formal representation of the model as an automaton.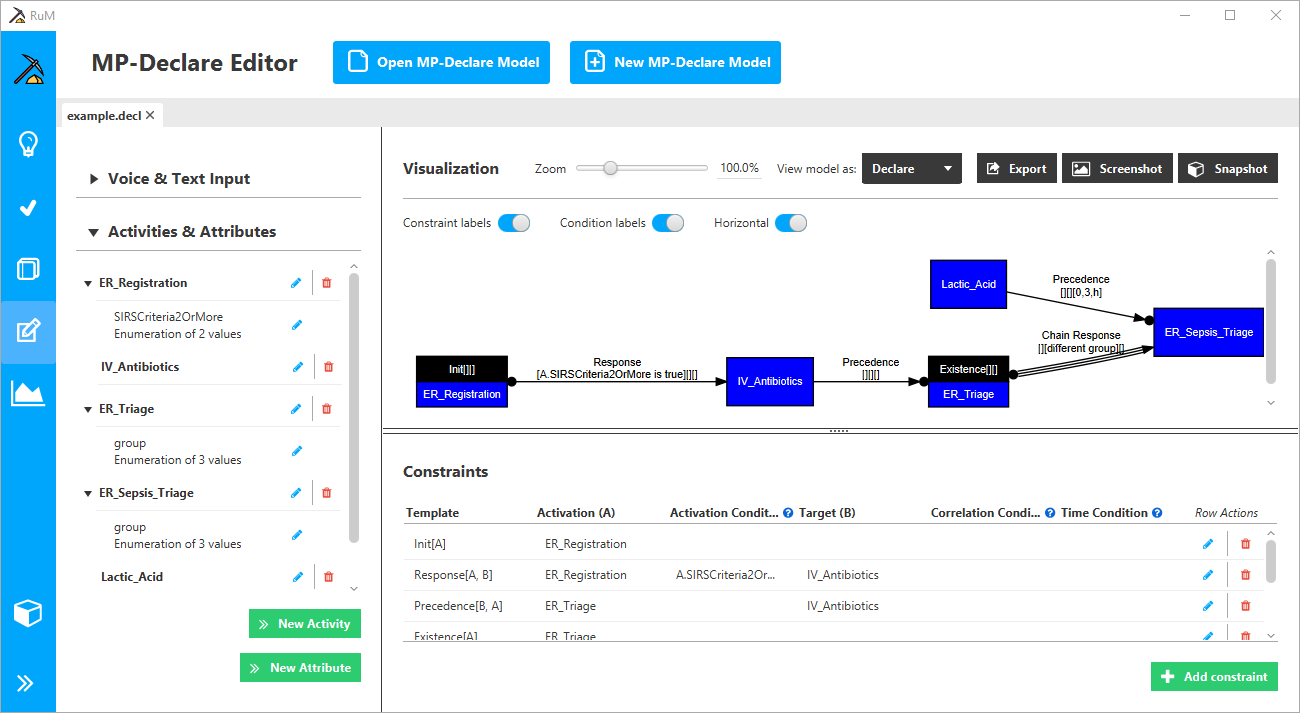 RuM includes a model editor to define Declare constraints – also with data and time conditions, as specified by the multi-perspective version of Declare (MP-Declare).
RuM supports users in defining constraints using natural language text and speech recognition with its chatbot Declo (view demo).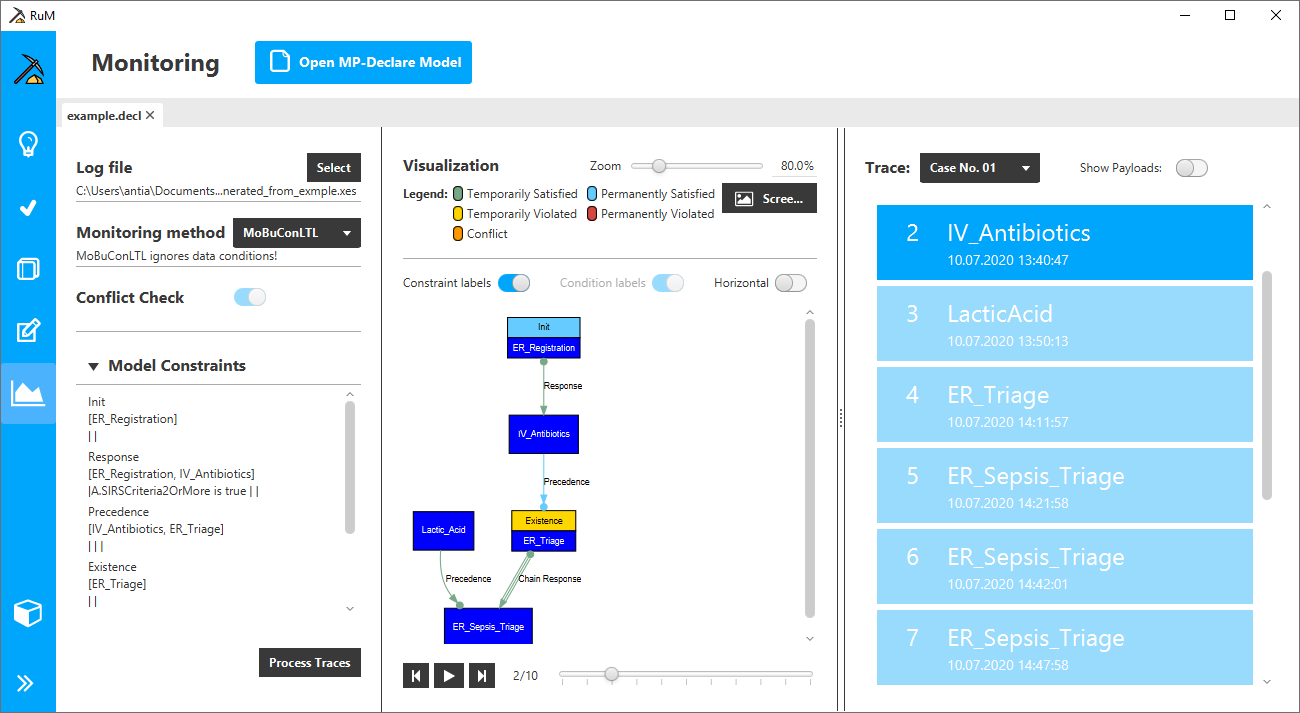 Monitoring supports the MP-Declare w Alloy, MobuconLTL and MobuconLDL methods. The monitors animate a Declare model by replaying a log over it and showing the constraints in the model that are temporarily or permanently satisfied or violated, after the occurrence of each event in the log. 
Log Filtering supports 17 types of basic filters, each fitting under attribute, performance, endpoints, follower, or timeframe. A mix of trace-based (filtering entire traces) and event-based (filtering specific events) filters is supported.
Furthermore, RuM integrates LTL Checker, which enables more advanced filtering based on 64 predefined LTL patterns ranging from templates of the Declare language to more complex workflow patterns in business processes.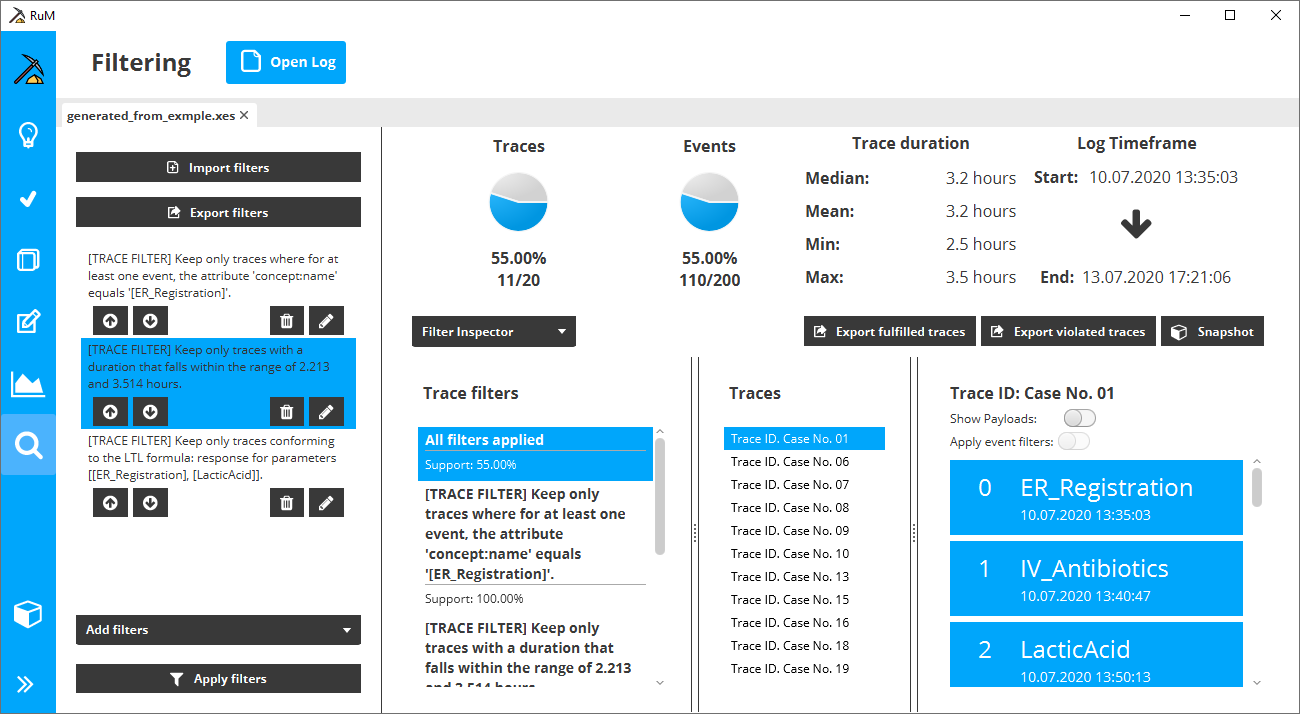 Operating system: Windows, Linux, macOS
Minimum resolution: 1280×720
Declo requires extra configurations as described here
Some functionality may require write access to the folder that RuM is running from
RuM comes as a JAR package: no installation is needed! To run it, you only have to equip your machine with Java 11 JDK.
You can run RuM via command line (java -jar .\rum-0.7.2.jar) or, if JAVA_HOME is set, simply by double-clicking the JAR file.
If there are other versions of Java on the same computer then it may be necessary to use the command: java -Djava.library.path=. -jar .\rum-0.7.2.jar